The 3rd edition of the International Mini art exhibition at Ville-Marie, in Temiscaming Canada
Participating Countries

Argentina
Australia
Austria
Belgium
Brazil

Bulgaria
Canada
Croatia
Denmark
Equador
Finland
France
Germany
Italy
New-Zealand
Quebec
Spain
Sweden
Switzerland
Republic of Czechoslovakia
Ukraine
United States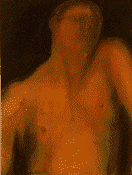 Bother (1996) 10 X 8cm
Huile sur paper
Keely Fielding -
Australie
Prix Peinture
Decidedly, something good has been watching over the destiny of the IMAB. Founded four years ago, this cultural event has met with nothing short of a resounding success. In 1992, the year of its inception, the exhibition proffered 230 artworks to a thousand of visitors and garnered, a few months later, the Regional Grand Prize in tourism. The second edition in 1994, even more participated in by artists the world over, presented 350 magnificient miniatures to some 2 000 visitors.
This year, the IMAB offers close to 800 artworks. Lots of miniatures, yes. But also so many artists! They come from the Americas Australia and Europe. The number of participants rose from one hundred (100) to three hundred and twenty-two (322). The Biennial, more international than before, is even more popular. Popular with the number of people it attracts, but also because it offers the opportunity to acquire an artwork at affordable prices.
Réal Couture (coordinator)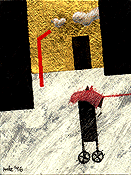 Stage (1996) 10 X 7.5cm
Peinture et feuille d'or
Mandus Koehler
Allemagne
Mention du jury
History of the Miniature
The miniature is a decoration painted or drawn on paper or parchment, executed by hand. Other terms are used such as illumination or manuscript painting. The word miniature is derived from the latin «minium» which signified the colour red. The capital letters painted in red ink which decorate the pages of books o the Middle Ages which give us the origins of the term miniature.
Nevertheless, this term was known only in Italy and the south-west of France. During the 16th and 17th centuries, in Italy first, then in other countries, the usage of the word miniature was applied specifically to a small portrait or painting. It wasn't until the 19th century that the miniature was attributed the meaning described at the beginning of this text.
It should be noted that in the Middle Ages, the history of the miniature is intimately linhed with the history of books, one did not comme with out the other. The importance is given to the text and image, not to the writing. The image is the reflection of the text. Today, the relation between image and text hasn't the same importance. We qualify an artwork miniature by its format foremost than by its mediatic support.
Joanne Tittley, 1992
Marcher quand tout
le monde dort (1996)
7.5 X 6.3cm
Techniques mixtes
Line Dubois
Quebec (Canada)
Prix Dessin

Paysage, Revoir No. IV (1996)
6 X 7.6cm Etching and dry point
Volodymyr Zabeida,
Quebec (Canada)
Prix Parcours
Organizing committee
Under the aegis of the administration council of the Salle Augustin-Chénier Inc., this is the organizing committee of the event:
Aline Blais, communications

Claire Bolduc, finance

Steve Briand, reception committee

Réal Couture, in charge of coordination and animation

Richard Durocher, President, Salle Augustin-Chénier

Bernard Flebus, finance

Ginette Jubinville, framing

Jacinthe Lavigne, animation and jury

Noël Neveu, communications

Joanne Poitras, collaborator

Adjoined to this team of volunteers are the personnel of the Salle Augustin-Chénier:

Diane Dumaresq, interim general director

Yvonne Lemire, animation and reception

Joanne Roy, assistant to the coordination

Curtis van Bochove, exhibition organizer
e-mail Raymond Andre