June 16, 2022
Almost 2 years have passed since writing here to my friends, students and collectors. Finally we are cautiously emerging from the Covid cocoon into which we were thrust.
I have sorely missed meeting with students and the public interested in my art work. In the spirit of re-engaging, I am pleased to be offering tutorials, classes and studio private views in the near future, while maintaining needed care to avoid further spread of the virus. Please sign up on my mailing list here to be notified of future classes and exhibits. Join her mailing list
Classes and tutorials will be offered via zoom and/or outdoor meetings as indicated by a cautious assessment of current Covid levels. Tutorials and upcoming classes and workshops will be posted on this website as they are created. Please look at past classes on the site for ideas of what Linda will be offering. Classes & Tutorials

By July 15, 2022, I would like to conduct tutorials for artists wishing to explore and develop their artistic vocabulary and technical skills by engaging with my expert feedback in printmaking, painting, drawing and artist books.

By late July or early August, I also hope to offer workshops and classes to experienced and beginning artists of all ages in printmaking, and my other areas of expertise. Some may be tailored to meet the composition of the students' ages and experience. Artists and parents of would-be artists (first grade or older) are encouraged to email me with their interests and to sign up on my mailing list.
All on-site meetings will take place at Linda's Petaluma studios. Linda's etching and litho presses will not be used until it is safe to do so indoors. Exceptions may be made for independent use of Linda's lithography press by some qualified artists. Contact Linda for further information on future press usage.
No international or out-of-area workshops are currently forecast. Hopefully in future years!


Studios:
Foundry Wharf Studio, 141 H Street, STE E, Petaluma, CA 94952
Red Ranch Studio, 3820 Bodega Ave., Petaluma, CA
Email
artist8606-e@yahoo.com
Facebook
@LindaGoodmanArtist
Instagram
lindagoodman.art

Message from Linda Goodman — July 29, 2020
These are difficult times and I hope all my collectors, friends and art lovers are staying safe and sane. I was grateful to have my most recent one-person exhibit in November 2019 at Rob Reiter's Berkeley Lightroom Gallery, before the virus befell us. Thank you to all my friends and collectors who were able to visit!
Now I am again creating art in my studio in Petaluma, and swimming at the public pool! Thankful for small pleasures. Soon I will be doing private views by apointment in my studio. Please contact me to arrange one.
Until then, please enjoy these pictures from the exhibit. Stay safe out there!
"New American Gothic", oil painting on canvas (below), 60" x 48".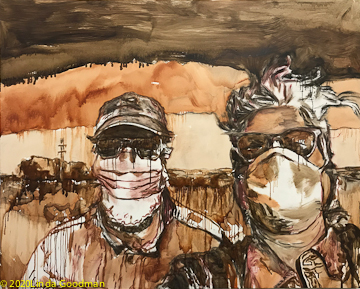 Linda Goodman Paintings and Monoprints. Images directly below are from her November 2019 exhibit at the Lightroom Gallery, Berkeley, California.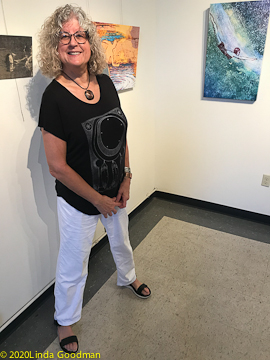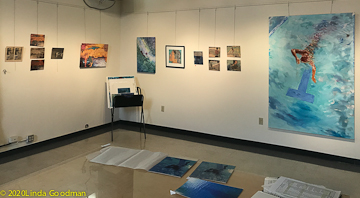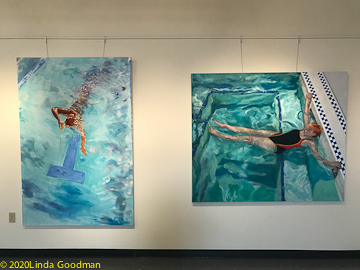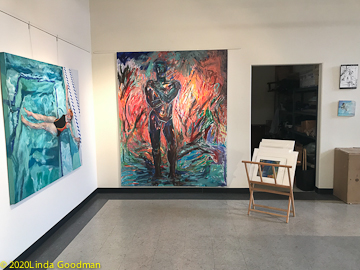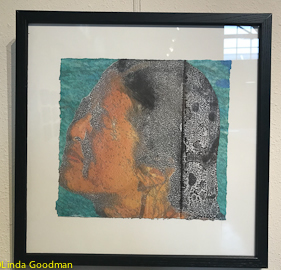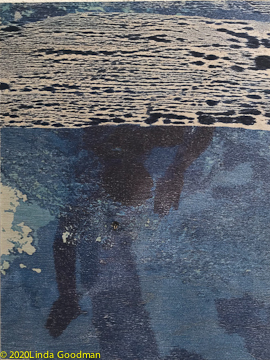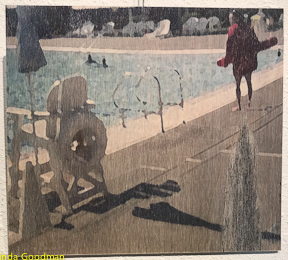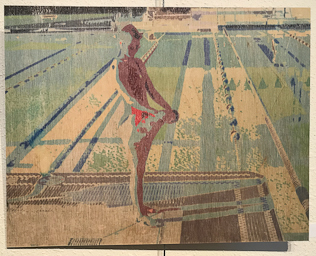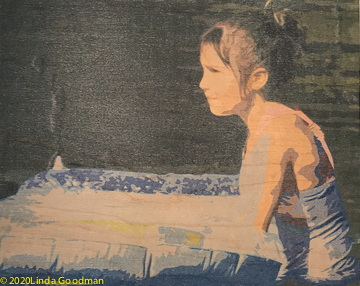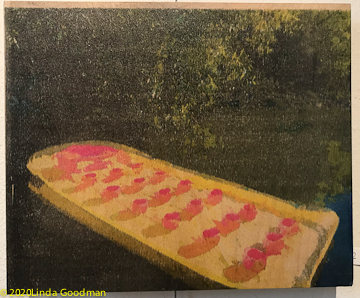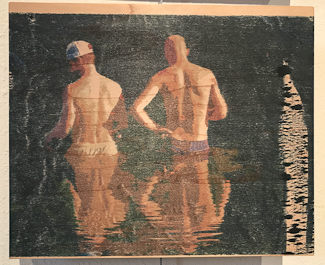 Studio Private Views —By appointment in 2022
WITH LINDA GOODMAN

Visit Linda at her studio in Petaluma's vibrant, West side
warehouse district! Email for appointment
and directions to studio.
_____________________

Find wonderful gifts of art and workshops for yourself, family and friends!
Give a Gift Certificate for artwork or classes!
Buy local!!
Linda teaches monotype printmaking using water-soluble inks
in her Petaluma Studio. Don't miss them! Next one is
Color Monotype tba 2019.
Check out her classes below or download a PDF class flyer here.
Join her mailing list .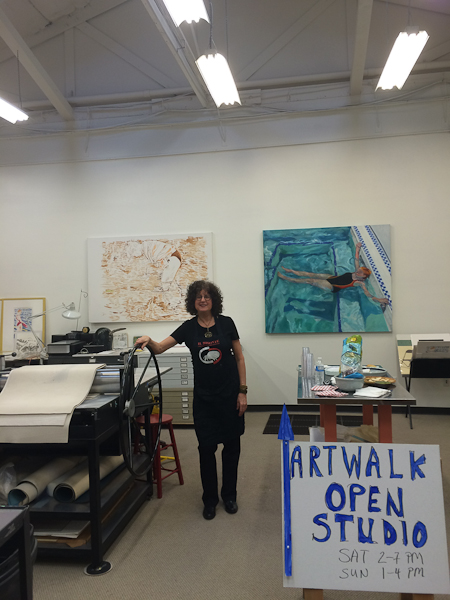 Linda invites you to her downtown studio
______________________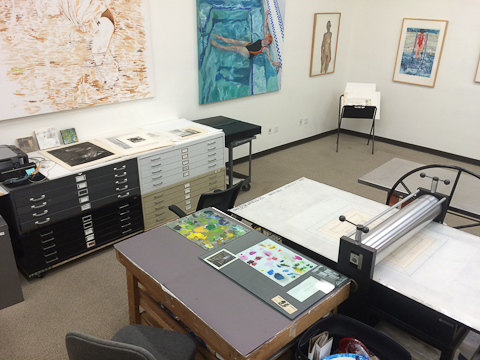 A look at the etching press and a few painting/printing stations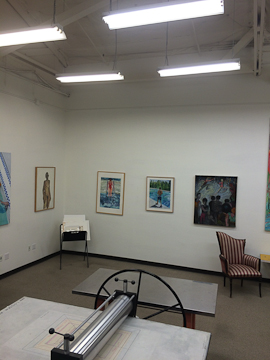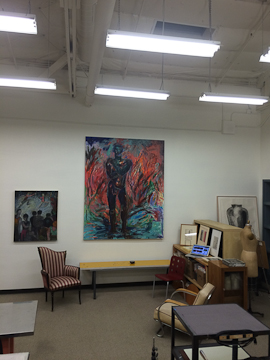 Skylights and high-beamed ceilings provide great light.
There's room for lots more painting/printing stations. And......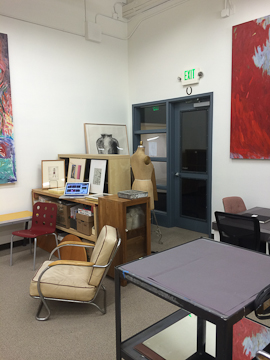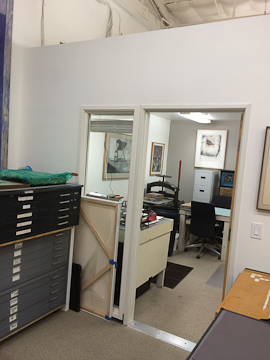 ....a whole other room for inking and lithography!


Make 2019 your year to take a class with Linda and start creating NOW!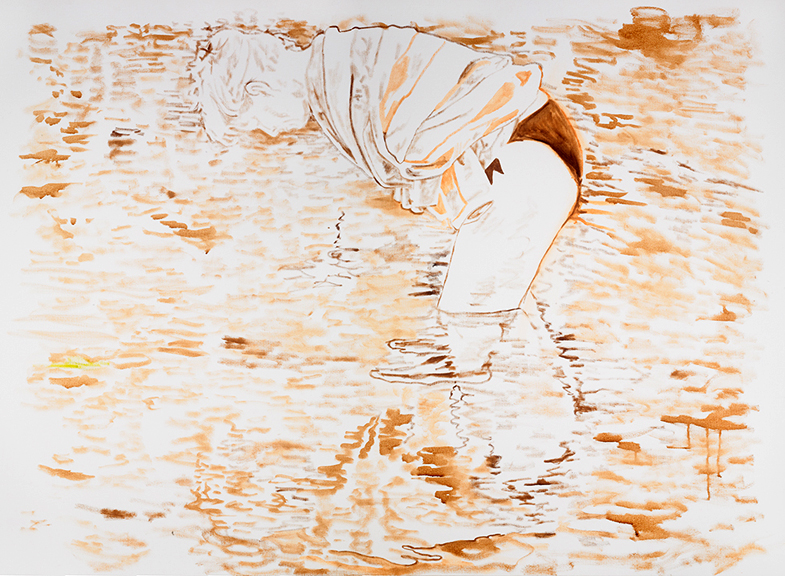 Linda Goodman's oil paintings "Jenny In the River," 48" x 72" (above)
begun at the Residency.
"Floating" (below), 55" x 65", exhibited at the Residency and in
the 29th Emeryville Art Annual.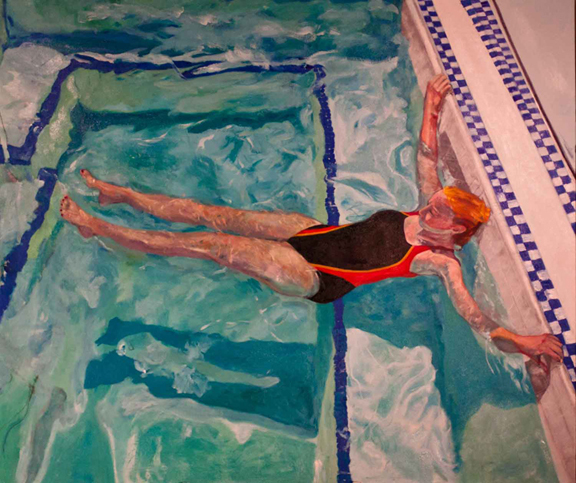 Schedule a Private View at Linda's Petaluma, California studio by appointment.
For more information email Linda, or join her mailing list .
We'd love to see you!