NEWS!!
_______________________________
"Buried Treasures, ReBoot":
Linda Goodman
Open Studio & Sale
—
We're joining Petaluma's 2nd Saturday Art Walk!
Saturday, January 14: 2 - 7 pm
and Sunday, January 15: 1 - 4 pm
—
Also by appointment: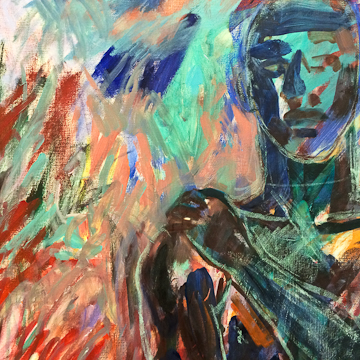 "Adam", Oil on Canvas, 84" x 66", (detail)

Come visit Linda at her new studio
at Petaluma's Foundry Wharf
(right near Aqus Cafe) in the vibrant warehouse district!

141 H Street, Suite E
Petaluma, CA 94952

Featuring rediscovered, in-progress and new
paintings, prints and drawings.
_____________________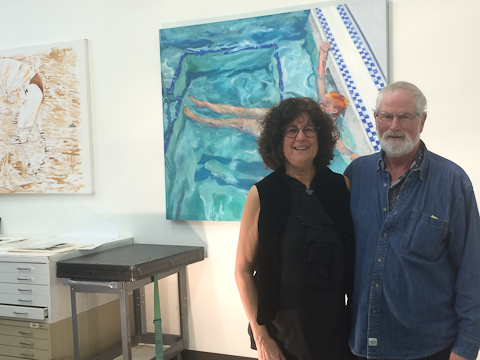 Linda and Voorhees invite you to her Petaluma Foundry Wharf Studio
______________________
Linda will be teaching printmaking at her new Petaluma Studio beginning January 2017.
Sign up for her mailing list. Join her mailing list .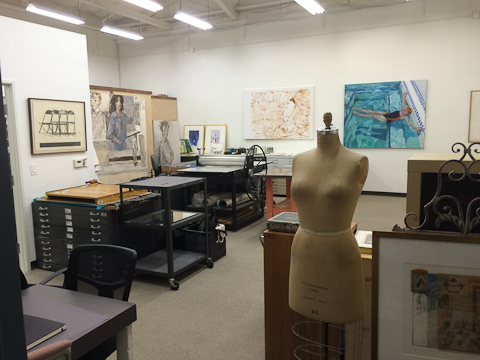 Entering Goodman's Petaluma Foundry Wharf studio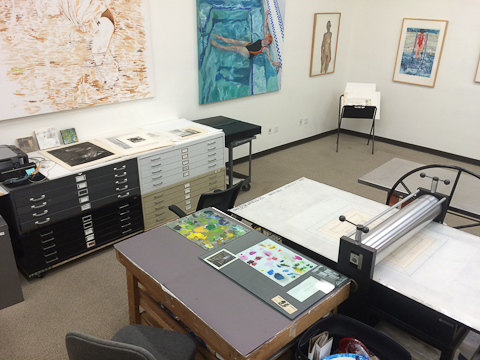 A closer look at the etching press and a few painting/printing stations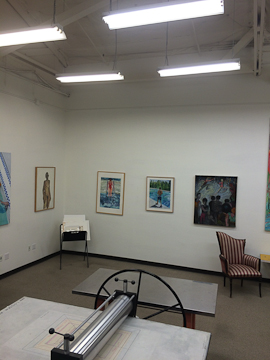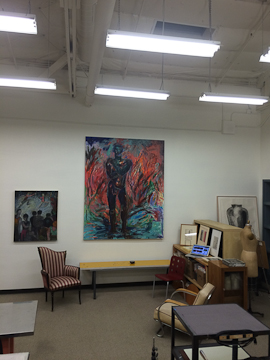 Skylights and high-beamed ceilings provide great light.
There's room for lots more painting/printing stations. And......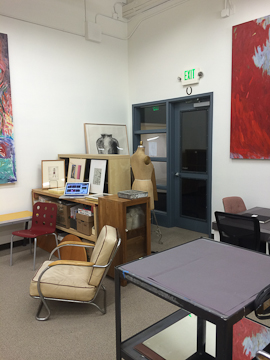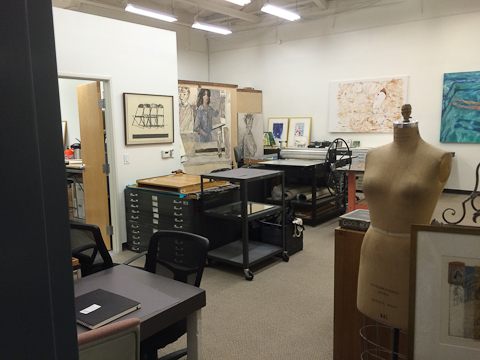 ....a whole other room for inking and lithography! (below)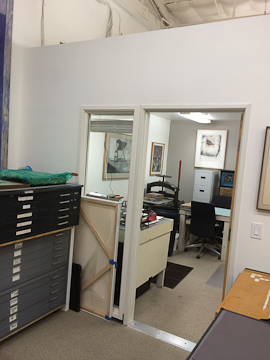 Make your 2017 New Year's Resolution to take a class with Linda
this January and start creating NOW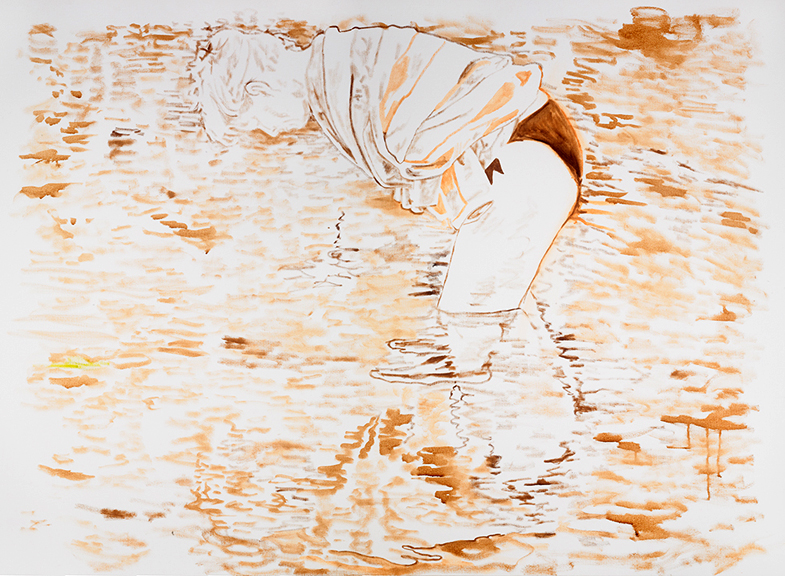 Linda Goodman's oil paintings "Jenny In the River," 48" x 72" (above)
begun at the Residency.
"Floating" (below), 55" x 65", exhibited at the Residency and in
the 29th Petaluma Art Annual.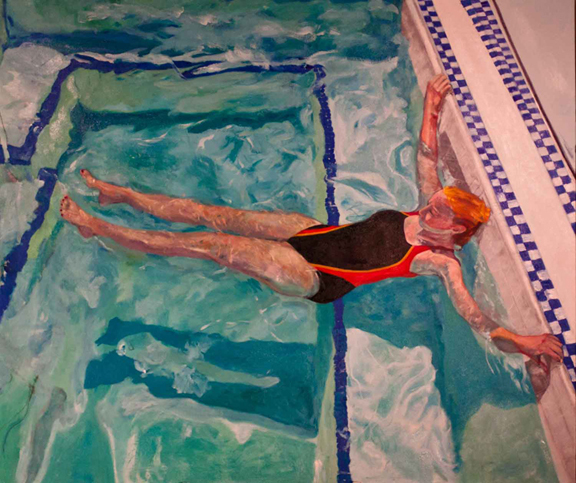 Schedule a Private View at Linda's Petaluma, California studio by appointment.
For more information email Linda, or join her mailing list .
We'd love to see you!





Linda Goodman's International Monoprint Workshops
in the San Francisco Bay Area and Italy!

Painter/ printmaker Linda Goodman is an adjunct instructor in printmaking at City College of San Francisco, and has taught classes extensively in the U.S. and abroad including the School of the Art Institute of Chicago, Illinois; University of Oregon, Eugene; Whitman College, Walla Walla, WA; San Francisco Art Institute, San Francisco, California; UC Berkeley; Berkeley,CA; University of Minnesota, Split Rock; San Francisco State University and Mills College, Oakland, California among others. Linda created the original "Printmaking in Florence" at SRISA in 1996, now called "Your Creative Sojourn in Italy: Printmaking in Florence" and presented at Il Bisonte International School of Art since 2004. She regularly conducts non-toxic monoprint and monotype art classes and workshops in the United States and abroad. Join her, and master printer Voorhees Mount, for Linda's 20th Italian Workshop, "Your Creative Sojourn in Ital" in captivating Florence, to work in healthier monotype, monoprint, drypoint and chine collè (beginning to advanced levels).
Linda Goodman's work is in the Brooklyn Museum, New York; the Oakland Museum, California; the Library of Congress, Washington D.C. and other public and private collections. She earned her BA in Fine Art from Stanford University, Palo Alto, California, where she worked closely with her mentor, Nathan Oliveira in printmaking and drawing. She holds a Master of Fine Arts from Mills College, Oakland, working concurrently in lithography and etching with Tamarind master printer Kenilo Nanao and renowned printmaker Misch Kohn at CSUH. Linda's work is largely representational, wilth occasional forays into abstraction. Her drawing is squarely placed in the Bay Area Figurative tradition. Resumè Artist's Statements. On Printmaking.
ALL WRITING AND IMAGES ON THIS WEBSITE ARE COPYRIGHTED © 2008-2016 BY LINDA GOODMAN. ALL RIGHTS RESERVED. REPRODUCTION, AND REPRINTING IN ANY FORM WITHOUT PERMISSION BY THE AUTHOR IS PROHIBITIED BY LAW. Contact Linda Goodman.
Monotype Workshops and Healthier Printmaking Art Classes*** Gift Certificates: click here!!***
USA: California
Healthier Monotype workshops and art classes • Critique Groups . Call for details or email

to register or pay with Paypal.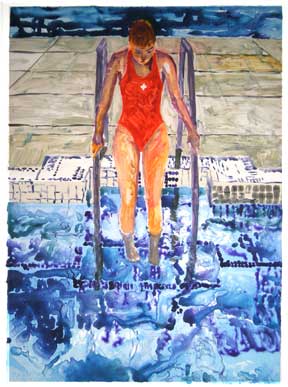 Sustainable Printmaking Practice in the San Francisco Bay Area
with Linda Goodman
Click here For Class & Workshop Details
Small private art classes featuring healthier printmaking methods with an emphasis on monotype workshops using an etching press. The artist's spacious and non-hazardous Petaluma studio is in a safe, easily accessible area minutes from San Francisco.
4 and 6-week ongoing classes in Monotype, Monoprint, Drypoint, Waterbased Monotype and Color Monoprint (oil-based). There are also intensive weekend and week-long workshops as noted below. Additional open lab time may be schedued. Inquire about discounts for registration in multiple or repeat classes.
Health-conscious habits are stressed for minimal exposure to inks and solvents in ALL workshops. Most workshops and classes are now taught with the latest water-based or -soluble etching and monotype inks. Monotype, monoprint and intaglio original prints are printed on her large freestanding Ettan intaglio press (pictured below). There is also an original Fuchs and Lang lithography press.

View of studio interior, Petaluma, California, Coming Soon!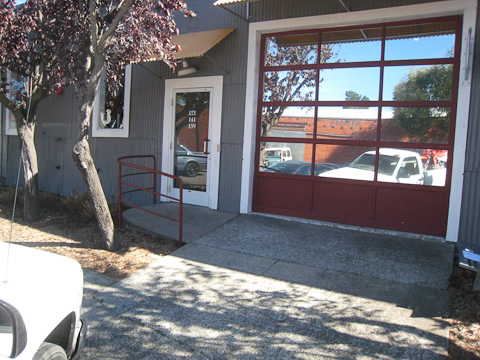 Entrance to Linda's new Petaluma studio
141 H Street, Suite H, Petaluma, CA 94952


General Class Descriptions below. For more details click here or on class title below.•

INTERNATIONAL :To register for workshops go to registration page (click here) and/or leave a message in Dreambook below to be contacted with instructions for registration

"Your Creative Sojourn in Italy: Printmaking in Florence" — Linda Goodman with Voorhees Mount. Tba.
More than 2 concentrated weeks of healthier monotype printmaking and collage.
Live and work in the heart of Renaissance Florence at a noted international art workshop on the Arno River's "Left Bank." Color monotype, monoprint, drypoint and chine collè, and enjoy virtually unlimited attendance at most major Florence museums. Hands-on instruction, concentrated studio work, personal feedback, stimulating discourse and camaraderie. All levels. Health-conscious habits and water-based inks highlighted. Two-and-1/2-week intensive. Optional guided walking tours (additional fee.). Fee includes workshop tuition, welcome meal, and many supplies.Housing, meals, airfare tours and entrance fees are additional. For complete details, including registration forms, click here.

FOR INFORMATION AND DETAILS ON FLORENCE WORKSHOP....
To receive a telephone consultation email

or sign Linda's confidential Dreambook.
To register and pay for Florence workshop with credit card or Paypal, click here.

COMMENTS FROM STUDENTS:
"Brilliant! You Linda, the workshop, the facility, the whole thing." "The workshop was great — it was life changing."
—Lorraine H., Ric H., Quincy, Massachusetts
"I would recommend this program." — Rich G., Sunnyvale, California
"Florence is a magical place—the opportunity to create work there made it extra special.... Having you as a mentor truly made the experience stress free. Wonderful."—Liz P. , Incline Village, Nevada
"Your workshop continues to be one of my fondest memories even after 15 years!"Gregory S, Santa Clara, California
"This was the best time I've had doing art. Everything was better than I anticipated."—G. W., Australia
"What did I enjoy most about this workshop? Linda's knowlege on printmaking and her enthusiasm, and the freedom to explore."—Vicky H., Australia
---
To Receive Emails from Linda Goodman please sign up here and indicate your area of interest.
Click HERE to join Linda's mailing list, request to register for classes and workshops, and send questions!
This information is private and confidential and only viewed by Linda Goodman. This "Dreambook" is private and not visible nor available to the public. It only used by Linda to communicate with you about workshops at your request.
Join Linda Goodman's Art Workshops Yahoo Group below for special discounts.

CONTACT: If you just can't decide, email Linda with your phone number for a free consultation at:



( To avoid spam, please retype the email address above in your email to me.)

GIFT CERTIFICATES
Give the GIFT of a Creative Workshop or Individual Critique to a loved one or yourself! Visit the Registration page to purchase a gift certificate and let your loved ones choose the workshop that is right for them! Critiques start at $50/hour.
Printworks Magazine An information resource for printmakers
CLICK to link to magazine, articles, printmaking links, classes and more!
California classes - 2017!
Workshops may be taken for one day only. Health-conscious habits ALWAYS stress non-toxic or minimal ink and solvent exposure in all classes
To register for workshops with credit card or Paypal go to registration page - click here. Email for direct registration details:

(Please type address yourself to avoid spam).
*All prices assume 4 person minimum or a supplement will be added.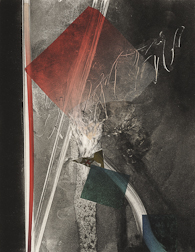 Healthier Monotype & Chine Collè Workshop:
Saturday ONLY 11 am - 5 pm.
January 28, 2017
$175; includes inks & use of plates.

This in-depth, hands-on workshop combines collage's rich formal and content possibilities with exquisite painterly and printerly effects of monotype.Use water-soluble inks. All levels. Click here for more details. To register for workshops with credit card or Paypal go to registration page - click here. Email for direct registration details:

(Please type address yourself to avoid spam)




Monotype Marathon — A Whole Lotta Monotype!
5-hours Tutorial for former students of Linda
Saturday 11:00am - 4:00 pm, Febuary 4, 2017
($100 includes water-soluble inks, plastic plate use.)
Are you itching to get back to work and spend a day making monotypes and/or monoprints? Or perhaps feeling a little rusty and unsure of yourself? Or just miss Linda's fine eye, guidance and sense of humor? Linda opens her well-equipped studio and works in the studio alongside you and a few other printmakers, answers questions and gives feedback to help you actualize your ideas.Monotype/monoprint/chine colle. Experience necessary; you are a former student of Linda's. No formal demonstrations. Three person minimum. Additional open lab time available by arrangement.